8:45-3:30
School Day
available 2-5 days a week
Extended Morning Free Play
Includes Preschool Program
Nap Time Included
half hour pick up time
9:00-1:30
Pre School
available 2-5 days a week
Our four and a half hour preschool day gives our children and teachers time to play, learn, and grow through a multidisciplinary approach.
Our Classrooms expose children to developmentally appropriate and interactive technology to enhance our comprehensive curriculum.
The Balance of structured and free play opportunities highlight our emphasis of social and emotional importance in early childhood
All preschool children are scheduled two outdooor gross motor play sessions. They rotate through our Large Playground, our Outdoor Dramatic Play Space, and our Trike and Bike Blacktop.
7:00-6:00
Full Day
available 2-5 days a week
Longer Hours for Working Families
Free Play and Teacher Led Activities
Multi Age Play
Enrichment Offered
Special Events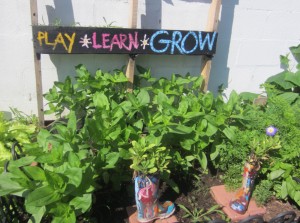 "Without hard work nothing grows but weeds" – Gordon B. Hinckley
Our children's garden extends science and sensory lessons beyond the classroom. Children weed water plant and harvest throughout the year to maintain our fully functioning garden. During the spring and summer, we enjoy harvesting fruits and veggies for a healthy snack! Our children's garden lends itself well to skill development in many areas and gets our students excited about things like healthy eating, working hard, and the science of it all. While our younger students learn from digging and feeling the dirt and seeing the difference between how different plants grow; our older students are learning about the cycle of plant growth and the difference between vining, rooting and stem growth. Our children's garden adds an aesthetic feel to the school but behind the scenes it provides a very meaningful learning experience for our little green thumbs.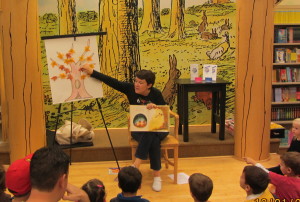 "The more that you read, the more things you will know. The more that you learn, the more places you'll go." -Dr. Seuss
Literacy is a fundamental part of a child's education. Through various avenues we work at instilling a love of reading in all of our children! Once each month, we invite an outstanding Story Teller to visit our school. This special assembly enables us to expand the love of reading beyond the classroom. Through music and visual props "The Story Lady" engages each of our children as books come alive!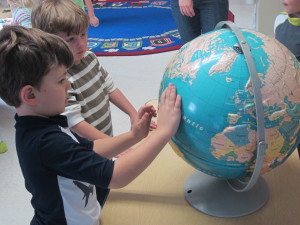 "Challenge yourself to embrace the work beyond the walls of your home, beyond the roads in your neighborhood, beyond the lines that define your state beyond the country that you live in." –unknown
Our school celebrates the diversity of all our children and families. Through our comprehensive curriculum we teach about the cultures and children around the world. This theme is present throughout our curriculum, however, in December, we focus on it through our World Tour.
Each class chooses a country to learn about. They spend time learning about the language, music, food, traditions, climate, and geography. Each age group decorates their room and classroom door with representations of what they have learned. At the end of the week everyone travels from country to county, stamping their passports and learning new things from around the world.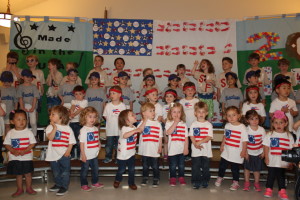 "The fact that children can make beautiful music is less significant than the fact that music can make children beautiful." -Cheryl Lavender
Our children are submerged in music throughout each day and each spring they are excited to show off their musical abilities at our Spring Concert! This event is a "do not miss", parent favorite! For our teachers it is an opportunity to show off multiple skills acquired throughout the school year. Children create their own individual costume, props and backdrop. Children learn and perform new songs as a class as well as a grand finale as a school. Our Spring Concert promotes public speaking, self-esteem and confidence, creativity and fun!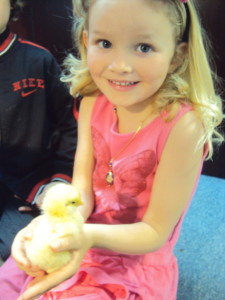 "Play is the highest form of research" – Albert Einstein
Each Spring we partner with a local farm to give our children a hands on Science Experience. Our children care for chick eggs and learn what they need to survive and thrive. We then are able to watch them hatch and grow into fuzzy little chicks. The children get to experience the biology and basic needs of newborn chicks. They love spending a week observing them, playing with them, and caring for them. We then give them a warm goodbye as they head off back to the farm.